Don't sweat the small stuff.
We are all too familiar with planning large projects and moves. We know how it goes, you focus on the big details and the big picture. At the end of the day you just need to make sure every employee has a seat, and day to day operations can function. Maybe you were specifically waiting for everyone to get settled, or you completely forgot. Either way, we're here for you.
We've supplied it all from monitor arms to pencil cups and everything in between, and even some things you never knew you couldn't live without.
Recommended Accessories
There are a few things we always recommend considering for your workspace:
Peter Pepper, Infection Control
We find ourselves in an interesting new world where typical healthcare practices are now a part of every day life for all of us, even outside of the doctor's office. Infection Control centers have been around for years. We can assist with providing hygiene products to customers, employees and visitors at entrances through free-standing, countertop, and wall-mount, dispensers.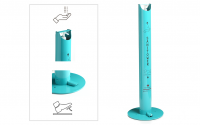 MityBilt, SaniTower
The SaniTower is a hands free sanitizer dispenser. Simply press on the pedal with your foot to dispense the sanitizer into your hands. Hands free means germ free! SaniTower is adjustable to accommodate a variety of bottle sizes however to make it even better, we've included a 1L bottle with pump and sanitizer gel. The bottle is secured in place so no one can walk-off with this prized commodity.

Workpointe is a deliberately different kind of company. We're all about service and long-term relationships, rather than just making a sale. We're committed to being both professional and personable – which means you'll like our work and you'll like working with us.
We ask the right questions, anticipate challenges and deliver solutions. If there's a problem, we'll make things right. We're always willing to work harder and go the extra mile for our clients.
In short, we'll do everything we can to make your job a little easier.
Seattle Headquarters
9877 40th Ave S, Seattle, WA 98118
Phone 206.763.4030 | Fax 206.763.4961
Spokane Showroom
921 W Broadway Ave, Suite 101, Spokane, WA 99201
Phone 509.327.7150 | Fax 509.327.0817
Workpointe serves Washington, Oregon, Alaska, Idaho and Montana, supporting regional and global projects.
Seattle Showroom
505 First Ave S, Suite 120, Seattle, WA 98104
Phone 206.965.1068 | Fax 206.763.4961
Portland Showroom
601 SE Clay Street, Portland, OR 97214
Phone 503.239.3912 | Fax 206.763.4961
ana, supporting regional and global projects.[/vc_column_text][/vc_column_inner][/vc_row_inner][/vc_column][/vc_row]