Healthcare Solutions
The people who work in the healthcare industry are concerned with saving lives and alleviating people's suffering—solving furniture & storage challenges is at the bottom of their list of priorities. Healthcare today knows that the dynamics are constantly shifting and that change is inevitable, from technology upgrades to improved work processes to new regulations, nothing, it seems, remains static.
Our Healthcare Specialists collaborate with designers, clinicians and facilities to create dynamic spaces for both the caregivers and patients. We are passionate about delivering innovative and dynamic healthcare solutions.
Healthcare Case Studies
Make sure to check out our Market Profiles page, for Healthcare installation photos we've taken from the field.
Furniture Solutions
Hospitals focus on improving outcomes. Providing healthcare furniture solutions that promote better experiences for patients, providers and caregivers. At Workpointe, we support your commitment to patient-centered care by designing for the human factor and optimizing the healthcare experiences to connect people, place and technology.
With solutions from patient care products, nurse stations to the waiting rooms. We are no stranger to these needs.
Compact Mobile Storage for Supplies
Many hospital storage requirements are vast and complex. Working closely with the people who know the facility best, Workpointe can develop over 70 new and efficient storage areas that can be strategically positioned throughout the facility. Installing high-density compact storage systems can assist in storing various pharmaceuticals, medical documents, equipment, and other critical resources. Through the use of precision controlled synchronized mechanical carriages we can ensure fragile items are fully protected at all times, and we can fully utilize all storage areas and eliminate aisle space.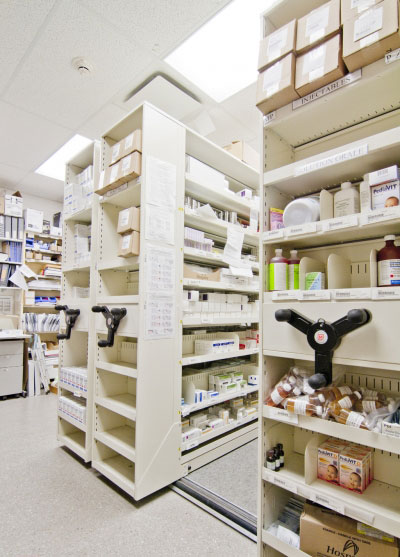 You'll be amazed by the difference smart hospital solutions can make.
Workpointe can help—contact us today to start a conversation.

Workpointe is a deliberately different kind of company. We're all about service and long-term relationships, rather than just making a sale. We're committed to being both professional and personable – which means you'll like our work and you'll like working with us.
We ask the right questions, anticipate challenges and deliver solutions. If there's a problem, we'll make things right. We're always willing to work harder and go the extra mile for our clients.
In short, we'll do everything we can to make your job a little easier.
Seattle Headquarters
9877 40th Ave S, Seattle, WA 98118
Phone 206.763.4030 | Fax 206.763.4961
Spokane Showroom
1118 N Washington Street, Spokane, WA 99201
Phone 509.327.7150 | Fax 509.327.0817
Workpointe serves Washington, Oregon, Alaska, Idaho and Montana, supporting regional and global projects.
Seattle Showroom
505 First Ave S, Suite 120, Seattle, WA 98104
Phone 206.965.1068 | Fax 206.763.4961
Portland Showroom
601 SE Clay Street, Portland, OR 97214
Phone 503.239.3912 | Fax 206.763.4961