Today's environments must be welcoming and warm, while being accessible and flexible. We can do that.
As your business changes, whether it's in the healthcare field or the private sector, change is inevitable. Modular casework is a huge part of any environment and the ability to change, move and re-design all without a contractor is a huge asset. In today's world casework needs to be modular, efficient, attractive, hygienic, versatile, durable, and accessible. Casework needs to be able to adapt with your changing needs. Workpointe has a vast list of resources that can help accomplish what you need without missing a beat.

Typically when you think about casework, you think about hiring a contractor and putting in a permanent fixture. If you choose to move around that casework in the future, you have to tear it all down, throw it in the trash and start from scratch. That approach is not friendly to our environment or your wallet. With modular casework, you can install your product and move it around freely in the future. You can redesign your existing layout and change the design, add-on, remove parts and the casework can adapt and change with you and your business.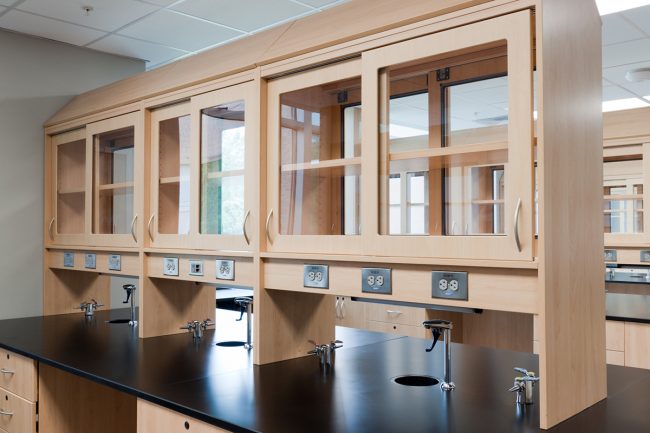 Featured Modular Casework Environments
Modular casework can be used in any environment, but here are some of our favorite installs:
Would you like to learn more about how modular casework can improve the flexibility in your space?

Workpointe is a deliberately different kind of company. We're all about service and long-term relationships, rather than just making a sale. We're committed to being both professional and personable – which means you'll like our work and you'll like working with us.
We ask the right questions, anticipate challenges and deliver solutions. If there's a problem, we'll make things right. We're always willing to work harder and go the extra mile for our clients.
In short, we'll do everything we can to make your job a little easier.
Seattle Headquarters
9877 40th Ave S, Seattle, WA 98118
Phone 206.763.4030 | Fax 206.763.4961
Spokane Showroom
1118 N Washington Street, Spokane, WA 99201
Phone 509.327.7150 | Fax 509.327.0817
Workpointe serves Washington, Oregon, Alaska, Idaho and Montana, supporting regional and global projects.
Seattle Showroom
505 First Ave S, Suite 120, Seattle, WA 98104
Phone 206.965.1068 | Fax 206.763.4961
Portland Showroom
601 SE Clay Street, Portland, OR 97214
Phone 503.239.3912 | Fax 206.763.4961