Workpointe Services Group (WSG)
is a wholly owned division of Workpointe focused entirely on providing all furniture related service activities to Workpointe and its clients. From project specific delivery and installation work to recurring warehouse and asset management services, WSG's single focus is on delivering a great experience to Workpointe and its clients. Our mission is to strive to provide superior services by providing our customers with prompt, courteous, and technologically advanced services in our industry. We promise to display the highest degree of integrity towards our customers and fellow employees.
WSG owns and operates over 100,000 square feet of warehouse space across three locations in the Pacific Northwest. With a dedicated crew, we receive, inspect and store all product as it arrives. We are familiar and skilled in processing damage reports and replacement items, de-trashing shipments and keeping the warehouse environmentally friendly.
Installation of floor-to-ceiling wall systems is a specialty at WSG. On a typical day, we will have 5-8 specially trained installers working on wall projects. Every year, our wall teams install many miles worth of architectural wall and related door product. Doing this kind of volume on a regular basis enables WSG wall installers to maintain peak performance in terms of quality and productivity. Our wall installation foremen are certified through manufacturer training programs as well as ongoing contact with manufacturer personnel, they stay current on the industry's latest products, product modifications, and material handling and installation techniques on a brand and line basis.
Whether you plan on relocating and reinstalling product in your current workspace or migrating into newly developed standards, WSG helps make the reuse as cost-effective as possible. Our asset management tool allows us to capture precise inventory information to maximize the reuse of existing assets and minimize new furniture purchases, ultimately leading to lower costs for our customers. A key area of asset management for IWE is arranging disposition of products that are not viable for reuse through brokerage, donation, or disposal with environmental methodology.

The range of WSG services in asset management can be strategically designed for warehousing, repair or refurbishment, or disposal of unneeded inventory to maximize your returns. We begin with assessments to review current office furniture asset management practices and develop a business case to support process improvements and cost-saving recommendations. Then we develop furniture and workspace standards. Depending on the need, we'll either arrange for office furniture repair or help broker office furniture disposal. Detailed reports are customized and provided to completely meet each of our client's unique needs related to office furniture asset management.

WSG manages all delivery and installation projects in-house. With our extensive product knowledge, unsurpassed customer service and factory trained and certified teams, you can count on your project being delivered on time and installed according to plan. And, in the unlikely event, there's a problem, we'll fix it. Fast.
WSG offers professional, efficient and skilled teams to help execute your move. Our goal is to provide you with the best commercial moving services and relocate your business with precision at competitive pricing. Our seasoned project installation supervisors will work with your company in planning your business move and making sure the scheduling and relocating of your office is seamless with little disruption to your business.

We have become the premier commercial and office relocation company because we follow a code of ethics based on integrity, trust, reliability, and pricing.

Workpointe Services Group (WSG) has a team of IT professionals that are devoted to developing better technology to improve the overall experience for drivers and customers. We pride ourselves on having the most accessible data and robust management system in the drive away industry.

WSG trucks and vans are equipped with systems for locating vehicles and controlling speed, but the latest generation of monitoring devices are much more far-reaching in scope. A combination of satellite-based tracking and cellular technology allows our fleet managers to remotely view what drivers are doing.

Workpointe Services Group (WSG) takes great pride in offering our customers the finest office furniture available at some of the best prices you'll find in the country. Helping protect the world's materials, natural resources and the environment gives us a competitive edge in the marketplace.

WSG's company policy is strongly committed to the three "R's" of sustainability: reuse of equipment; recycling of materials; and, therefore, reduction of waste that can further reduce the earth's depleting natural resources. Helping protect the world's materials, natural resources and the environment gives us a competitive edge in the marketplace.

Refurbishing and recycling office furniture in a first-class manner serves several purposes, including conserving materials for future generations and saving our customers money.
We believe that providing the best solutions for our customers begins by ensuring they're the best solutions for our environment. That's why every step of the way – through delivery and product lifecycle – we consider the impact of our work on people and on the environment and uncover opportunities to make things better.

Services
Process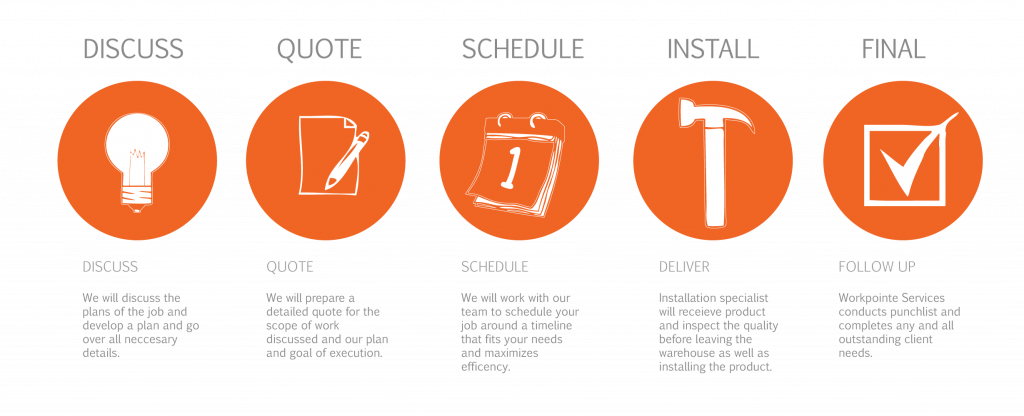 Career Opportunities
Since we opened our doors over 42 years ago, we've been outfitting workspaces and creating amazing customer experiences along the way. We are go-getters, difference-makers, and action-oriented people who think and act outside of the box. We've got work to do and we're looking for the right people to help us get there. We offer competitive wages and benefits.
Send your resume and cover letter to Apply Today!

Workpointe is a deliberately different kind of company. We're all about service and long-term relationships, rather than just making a sale. We're committed to being both professional and personable – which means you'll like our work and you'll like working with us.
We ask the right questions, anticipate challenges and deliver solutions. If there's a problem, we'll make things right. We're always willing to work harder and go the extra mile for our clients.
In short, we'll do everything we can to make your job a little easier.
Seattle Headquarters
9877 40th Ave S, Seattle, WA 98118
Phone 206.763.4030 | Fax 206.763.4961
Spokane Showroom
1118 N Washington Street, Spokane, WA 99201
Phone 509.327.7150 | Fax 509.327.0817
Workpointe serves Washington, Oregon, Alaska, Idaho and Montana, supporting regional and global projects.
Seattle Showroom
505 First Ave S, Suite 120, Seattle, WA 98104
Phone 206.965.1068 | Fax 206.763.4961
Portland Showroom
601 SE Clay Street, Portland, OR 97214
Phone 503.239.3912 | Fax 206.763.4961