With crime levels on the rise, law enforcement agencies are now facing a new challenge: storage.
If you're looking to regain control of your space and find a storage solution that optimizes the room available, we have just what you need.
Law enforcement agencies have an unending amount of resources and information to store; from evidence, personal records, official paperwork, weapons, uniforms, and equipment. Smart storage isn't just about making a space look tidy. It is about ensuring your employees have quick and easy access to the resources they need and that no evidence is misplaced or stolen. A potential PR nightmare that could put the safety of your workforce at risk. It is your basic duty to ensure that the interests of the community you serve are fully protected through the use of safe and effective storage mechanisms.
We have extensive experience of working with law enforcement personnel to provide optimized storage solutions throughout the country.
Creating Space for Officers With Personal Storage Lockers
Law enforcement personnel frequently find themselves in high-pressure situations that can take a toll on their stress levels and mental well-being. It is critical that they have a pleasant work environment to return to after a difficult shift upholding the law. One way in which you can provide this is through creating a well-managed space that is free of clutter and mess.
Police Departments are frequently in need of a locker room area so that each officer can be provided with a dedicated cabinet in which to store their uniform and other equipment. Personal storage lockers are a great solution for this. Each locker can contain lockable sections for personal items, hooks and shelves for storing clothing and accessories, a pull-out drawer for storing boots and shoes, and a fitted tray for drying bulletproof vests. We can configure and build exactly catered to your needs.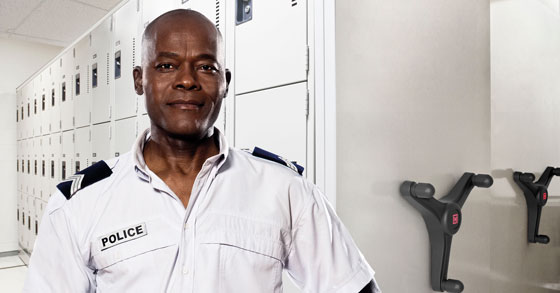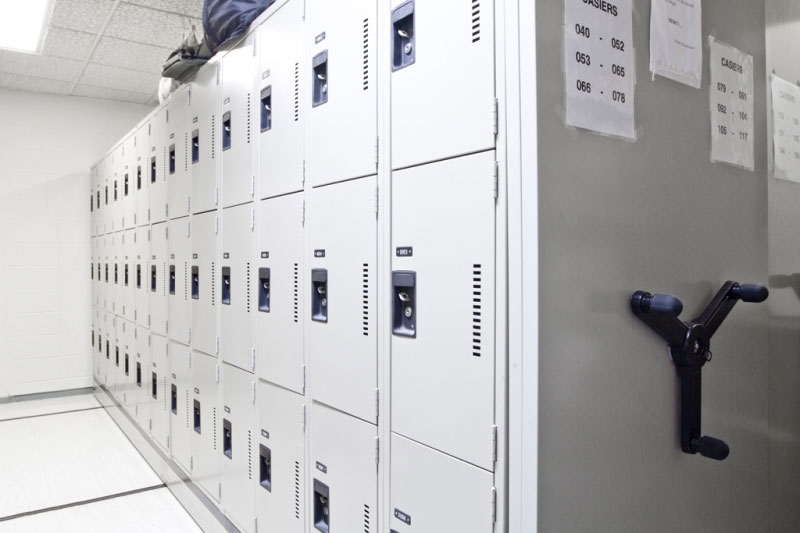 Managing the Chain of Custody With Evidence Lockers
Evidence needs to be safeguarded at all times, and it is imperative that law enforcement personnel know exactly where important items are when they are needed. From the time the evidence is first collected through to the date at which it can be purged. Many departments have out-dated systems and have potentially serious issues with their chain of custody. We have worked with several departments that were seeking state accreditation, and they turned their attention to overhauling their short-term evidence system in order to create a controlled and well-managed repository that safeguarded critical evidence. We installed a new bank of pass-thru evidence lockers that allowed the departments to seamlessly update their evidence storage area and establish best-practice systems for evidence documentation that significantly reduced the risk of key items of evidence being lost or misplaced.
Mobile Shelving: Organizing Long-Term Evidence
Under the threat of reversed convictions, appeals, and new DNA evidence, modern law enforcement agencies are being forced to hold on to critical pieces of evidence for more time. However, this brings with it a further challenge: storage. Traditional storage systems are no longer able to meet the long-term evidence storage demands of contemporary law enforcement agencies. Many police departments have found the solution in the form of high-density mobile storage systems. This offers them the perfect mechanism through which they can fit larger volumes of evidence inventory into smaller spaces while ensuring there is sufficient scope for increasing the number of items stored in the future. Law enforcement agencies that operate in large cities are often unable to store evidence inventory on site and, as such, have invested in dedicated off-site storage facilities.
Weapons Racks for Keeping Guns and Ammunition Secure
Weapons storage should take into consideration two main factors: Ensuring weapons are secure at all times while also being readily accessible in the event of an emergency. Fully aware of the importance of ensuring accessibility and safety many departments seek a weapons storage solution that would safeguard their significant weapons collection. Sturdy weapons racks are a great answer to this difficult question. They allow departments to store a comprehensive collection of weapons, ammunition, and other equipment of various shapes and sizes in a secure central location.
We have vast experience in designing and implementing storage solutions for a variety of police departments and public safety buildings.
To find out more about how we can make a difference to your project, email us today.

Workpointe is a deliberately different kind of company. We're all about service and long-term relationships, rather than just making a sale. We're committed to being both professional and personable – which means you'll like our work and you'll like working with us.
We ask the right questions, anticipate challenges and deliver solutions. If there's a problem, we'll make things right. We're always willing to work harder and go the extra mile for our clients.
In short, we'll do everything we can to make your job a little easier.
Seattle Headquarters
9877 40th Ave S, Seattle, WA 98118
Phone 206.763.4030 | Fax 206.763.4961
Spokane Showroom
1118 N Washington Street, Spokane, WA 99201
Phone 509.327.7150 | Fax 509.327.0817
Workpointe serves Washington, Oregon, Alaska, Idaho and Montana, supporting regional and global projects.
Seattle Showroom
505 First Ave S, Suite 120, Seattle, WA 98104
Phone 206.965.1068 | Fax 206.763.4961
Portland Showroom
601 SE Clay Street, Portland, OR 97214
Phone 503.239.3912 | Fax 206.763.4961