A satisfied customer is the best business strategy of all.
You probably spend more time at work than you do in your own home, so why should your place of work be dull and uninspiring? Fortunately, many companies now understand that the way our workspaces are designed has an instrumental impact on the way we work, on our performance and even on the way in which business is conducted. Alongside this new understanding, there has been a rapid growth in open office concepts, co-working, and hoteling.
Furniture can play an integral part in this transformative process. As employers attempt to create appealing workplaces while also striving to maintain the high level of efficiency expected in the modern global economy, it is imperative you keep workplace materials and supplies well ordered and easy to access. We have partnered with a number of companies to help you achieve exactly that. Whatever business you're in, we can deliver a range of corporate furniture and storage solutions that ensure you are organized and efficient at all times.
Make sure to check out our Market Profiles page, for Corporate installation photos we've taken from the field.
Creating the Right Work Space
Efficient & Open Workspaces
It is the norm for companies today to be highly responsive to customers, to be able to work as a team and to share information seamlessly. With an open plan layout to assist in ingeniously organizing and storing your business files and even equipment, you will have boundless opportunities to shape and use your own space.
Don't sweat the small stuff.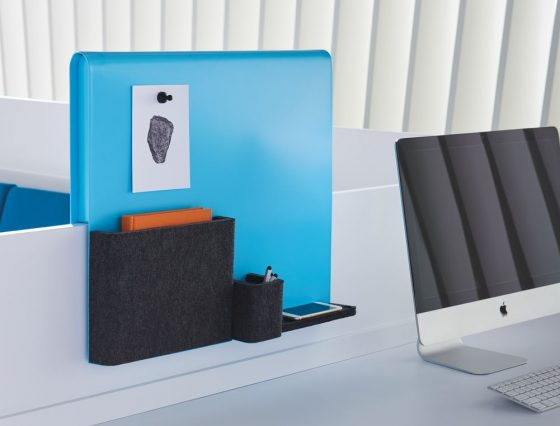 Files
When it comes to file storage, we've got you covered. From high-density storage all the way to under-desk pedestals. With the vast array of markets we work in, we really do dabble in everything. We understand space constraints and we also understand the need to file and protect everything you've got and we have solutions for every problem you might have.
Accessories
Many times when moving or redesigning your space, you focus on the big picture and the urgent necessities. But once you move in, you realize there are other things you need that could make your life easier. Do you need a monitor arm to fix that crick in your neck? Do you need somewhere to put all your pens? How about a coat rack so your jacket doesn't drag on the floor on the back of your chair? We've been there and we know how to solve the problem. Check out more solutions on our Accessories page.
Signage
Have you ever walked into an office and you weren't sure if you were in the right place or where to go? Signage in the workplace is one of the most important things that provide your customers and clients with a good experience. With the decline of receptionists and individual secretary's, signage can provide the signage solutions that you need; whether its welcome signage, building identifications, office signs, cubicle signs, wayfinding, emergency signage, or anything else your business might need. We can provide ADA compliant signs as well as incorporating your own graphics to tie in your branding.
Sometimes, you need a little privacy
Whether you are someone who needs a permanent private office, you share one with your team, or you just need to provide a private space that your employees can use throughout the day. We have a solution for you.
Adapt your environment
Accommodate the ever-changing and ever-growing
Things change. Things evolve. With modular wall systems, you can adapt, change and grow your needs at the same pace that your business is changing.
Storage is our business — and it can impact yours.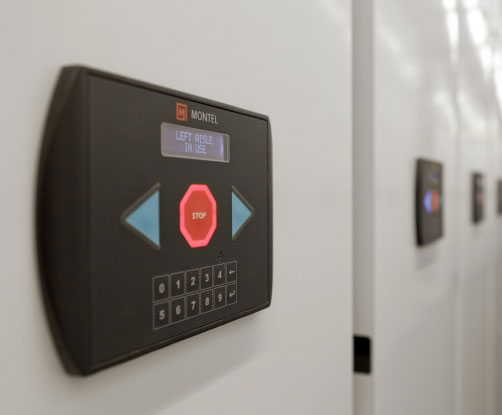 Secure File Storage
Unfortunately, breaches in security are all too common and, in order to keep your business secure, it is prudent to limit access to your files and records only to the people who really need it. A high-density mobile system with Touch Technology Control or Touchpad Aisle Access Control is an excellent way to protect all of your important documents against unauthorized access.
Inviting Reception Areas
First impressions last and your reception area is where important clients get their first glimpse of your organization. As such, it is crucial that the first impression is positive. We work closely with our customers to create an appealing, yet practical, reception space that combines traditional fixtures and fittings with modern modular casework.
Organized Mail Center Systems
We can help to increase the efficiency and security of your mail center with storage systems that offer adaptable, safe and auditable methods for packaging and distributing your mail. Our systems can be easily reconfigured and are offered in a range of different sizes to easily match your unique requirements.
Are you struggling with the design in your office and need to transform your workspace?
Reach out to a team member today, we're here to help you!

Workpointe is a deliberately different kind of company. We're all about service and long-term relationships, rather than just making a sale. We're committed to being both professional and personable – which means you'll like our work and you'll like working with us.
We ask the right questions, anticipate challenges and deliver solutions. If there's a problem, we'll make things right. We're always willing to work harder and go the extra mile for our clients.
In short, we'll do everything we can to make your job a little easier.
Seattle Headquarters
9877 40th Ave S, Seattle, WA 98118
Phone 206.763.4030 | Fax 206.763.4961
Spokane Showroom
1118 N Washington Street, Spokane, WA 99201
Phone 509.327.7150 | Fax 509.327.0817
Workpointe serves Washington, Oregon, Alaska, Idaho and Montana, supporting regional and global projects.
Seattle Showroom
505 First Ave S, Suite 120, Seattle, WA 98104
Phone 206.965.1068 | Fax 206.763.4961
Portland Showroom
601 SE Clay Street, Portland, OR 97214
Phone 503.239.3912 | Fax 206.763.4961