Flexible, efficient and durable. For your current and future needs.
We know that your business is continually changing. Perhaps you are experiencing significant growth? Or maybe you are about to relocate to a new office? Possibly you are in the process of renovation and need a safe place to store your documents in the interim? Perhaps you are renting storage space and are not permitted to change the footprint in any way? Fear not, we have a solution to meet your needs.
High-Density Mobile Shelving
Evidence Storage
Locker Storage
Metal Shelving
Modular Storage
Museum Storage Products
Parachute Storage
Weapons Storage
Book Carts
Bookcases
Credenzas
Overhead Storage
Lateral Files
Library Shelving
Pedestal Files
Storage Towers
Vertical Files
Low-Profile Mobile Storage: Modes of Operation
Our low-profile mobile storage systems are available with three different modes of operation, allowing you full control over the security, ease of use, and accessibility of your units.
.01
Manual
As the name suggests, these systems are completely manually operated through a simple push-handle mechanism. Manual low-profile moving shelving systems are ideal for smaller storage applications that are not accessed on a regular basis.
.02
Mechanical Assist
Our mechanical assist shelving systems are operated using a three-spoke handle that the user rotates. The mechanical assist mechanism comes with additional features such as a color-coded safety-locking pin and an exclusive anti-drift brake for floorless rail systems.
.03
Powered
Our powered systems are operated at the push of a button for maximum user ease. Powered by mains electricity, these systems are incredibly easy to install and relocate. In addition, your security and safety are fully protected with technology.
Furniture Solutions
Integrating storage with your furniture plan offers accessible storage that is a relevant and cost-effective solution for various workstations and application styles.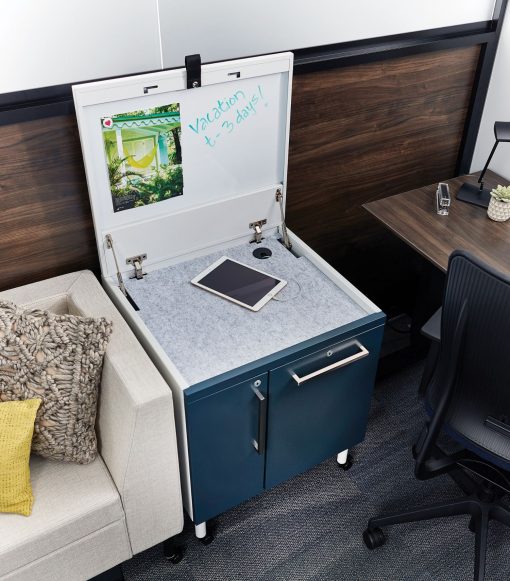 KI, Tattoo
Tattoo storage provides a perfect balance of work and personal compartments for your purse, gym bag, a change of shoes, plus files and folders. It offers mobility and user-control that adapts to of-the-moment needs for privacy or interaction. Featuring an inset leg design, storage elements can be easily moved within your workspace.
Teknion, Literatura Open Shelf System
Literatura is an open bookcase featuring a small, distinctive storage unit on casters ideal for displaying and storing books, works of art, music, photos, souvenirs and what-nots. Literatura integrates with all kinds of architecture and interior design works. This "light, balanced collection of cubby holes" can also be used as a room partition.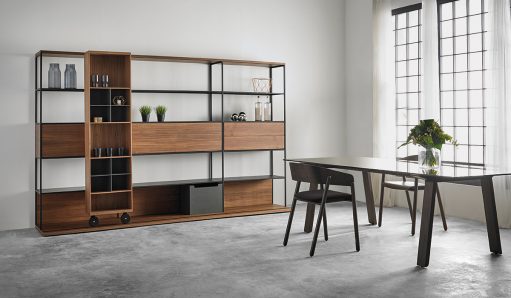 Workpointe is a deliberately different kind of company. We're all about service and long-term relationships, rather than just making a sale. We're committed to being both professional and personable – which means you'll like our work and you'll like working with us.
We ask the right questions, anticipate challenges and deliver solutions. If there's a problem, we'll make things right. We're always willing to work harder and go the extra mile for our clients.
In short, we'll do everything we can to make your job a little easier.
Seattle Headquarters
9877 40th Ave S, Seattle, WA 98118
Phone 206.763.4030 | Fax 206.763.4961
Spokane Showroom
1118 N Washington Street, Spokane, WA 99201
Phone 509.327.7150 | Fax 509.327.0817
Workpointe serves Washington, Oregon, Alaska, Idaho and Montana, supporting regional and global projects.
Seattle Showroom
505 First Ave S, Suite 120, Seattle, WA 98104
Phone 206.965.1068 | Fax 206.763.4961
Portland Showroom
601 SE Clay Street, Portland, OR 97214
Phone 503.239.3912 | Fax 206.763.4961