The future of the world is in the classroom today.
The classroom has come a long way from blackboards and chalk. The classroom today revolves around interaction, collaboration, and technology. But one thing has never changed; "Education is the key to success in life, and teachers make a lasting impact in the lives of their students. The function of education is to teach one to think intensively and to think critically. Intelligence plus character – that is the goal of true education." – Martin Luther King Jr.
It is common in our industry to lump Higher Education and K12 Education into one "Education" market. But we have gone a different route here at Workpointe. While both environments are for learning, they are drastically different in their needs, their operations and the students themselves. Because of this, Workpointe has two completely separate divisions with specialists dedicated to Universities and to K-12 Education.
Let's start at the heart of it.
Classrooms and learning environments have evolved dramatically over the years. The classroom is more collaborative and teachers are encouraging students to work together, to learn from one another. Which means the furniture needs to adapt and grow with the new methods and styles that are happening in today's schools.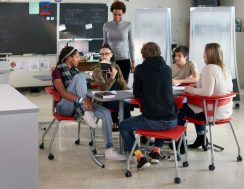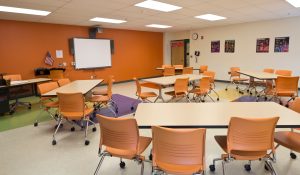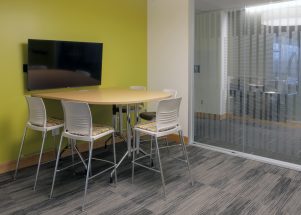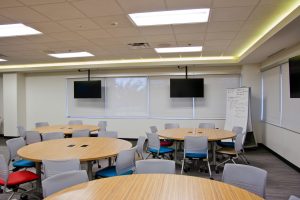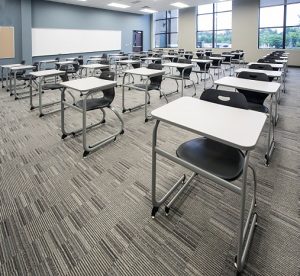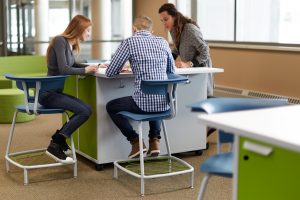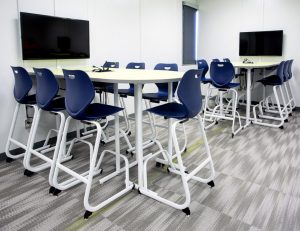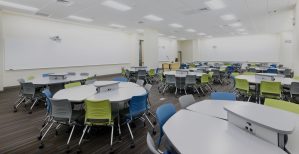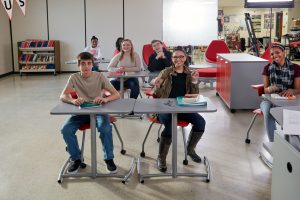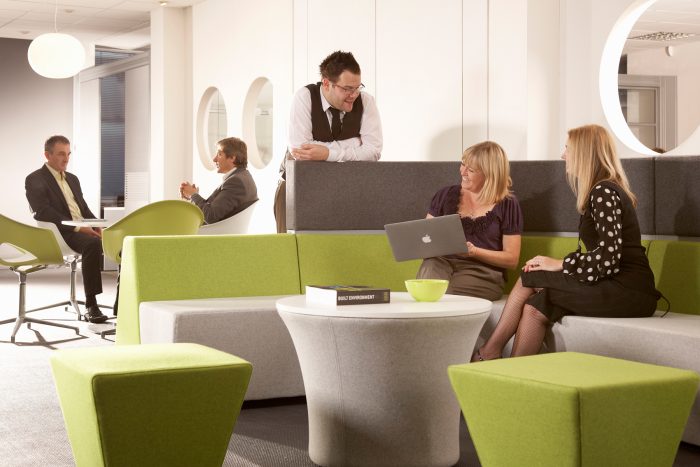 Libraries or media centers are more than just a place to read or check out books.
It is a social gathering place for teens, tutoring, study groups, meetings and activities for children. We can help you plan your space to create a fun and exciting environment and still have flexible furniture to accommodate the needs for various functions.
Everyone's favorite period in school, is lunch.
It's where students socialize, bond and build lasting friendships. But the Cafeteria often doubles as a transitional space and serves multiple purposes. The cafeteria is usually where school dances, pep rally's, fundraisers and assemblies are held. In the past, it's been hard to design a space that was able to serve all of these functions while still looking like a great space. However, when you put great minds together, we can solve any challenge and we have multiple partners that help us accomplish and solve these challenges.
The magical process of learning and performing music requires the proper tools.
From chairs and stands, to risers and stages, to storage cabinets and carts. With our partners we can offer a robust option from professional backstage and on-stage equipment for performing arts facilities of all sizes. Staging, seating, acoustics and conductor's equipment to rigging and scene control. We've got you covered!
The makerspace movement is drastically altering the environment and culture of today's standard classroom.
Makerspace learning develops agency, meaning students become independently capable of expressing creative confidence and curiosity within their environment. No longer do we find educators at the front of a room lecturing. Instead, we see an inspired shift, from teacher to mentor, whereby distributed teaching and learning is occurring throughout a fluid, interdisciplinary process. STEM and STEAM live here. Students use technical tools that proclaim that a "different" kind of learning is happening within this space.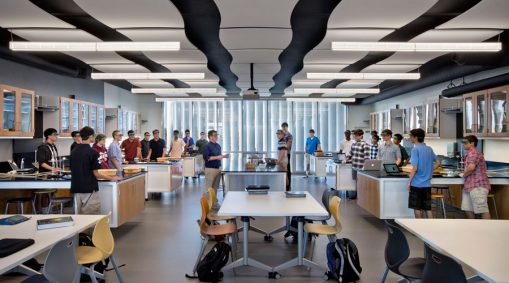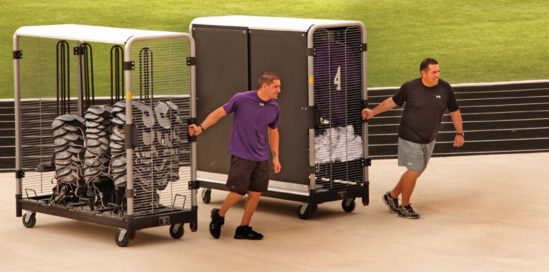 Whether you kick the ball, or pick-up the ball, it still needs a place to go.
High School sports are constantly on the move. Whether you're moving your equipment from storage to the gym, practice area, parking lot or sidelines. You need to move equipment around and you need it to be secure. We have options that are flexible, secure, economic and can be branded to show off your school pride.

Workpointe is a deliberately different kind of company. We're all about service and long-term relationships, rather than just making a sale. We're committed to being both professional and personable – which means you'll like our work and you'll like working with us.
We ask the right questions, anticipate challenges and deliver solutions. If there's a problem, we'll make things right. We're always willing to work harder and go the extra mile for our clients.
In short, we'll do everything we can to make your job a little easier.
Seattle Headquarters
9877 40th Ave S, Seattle, WA 98118
Phone 206.763.4030 | Fax 206.763.4961
Spokane Showroom
1118 N Washington Street, Spokane, WA 99201
Phone 509.327.7150 | Fax 509.327.0817
Workpointe serves Washington, Oregon, Alaska, Idaho and Montana, supporting regional and global projects.
Seattle Showroom
505 First Ave S, Suite 120, Seattle, WA 98104
Phone 206.965.1068 | Fax 206.763.4961
Portland Showroom
601 SE Clay Street, Portland, OR 97214
Phone 503.239.3912 | Fax 206.763.4961