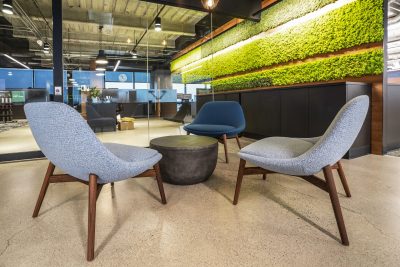 PMI's office remodel was a collaborative design between Workpointe and Burgess Design. The 27k sf. floor plate includes 150 workstations, 18 conference rooms and collaborative meeting spaces throughout. Design development began in the Fall of 2019 and the project was completed in November of 2020. Due to COVID, project development posed many new challenges and required a pivot of collaboration strategies to accommodate the health and safety of the team. New technologies were utilized such as virtual 3D mockups, and Workpointe compiled multiple sets of comprehensive finish packages for all team members to equally participate in virtual meetings. Working through COVID shutdowns, every design decision came under review as the team tried to anticipate the future office. The end result is a beautiful, functional office space that emulates the PMI brand and culture.

Project Scope:
Product: Teknion, 9 to 5 seating, Bernhardt, Bludot, Claridge, Clarus, Coriander, Creoworks, Davis, Encore, Grand Rapids Chair Co, Hi5 Tables, Industry West, JSI, Leland, Naughtone, Nevins, OFS, Senator, Sossego, Stylez, Watson, West Elm.
Year: 2020
We invite you to check out the virtual and interactive digital walk-through: Check It Out Here.