Just when you get used to this place.
Today's work environment is every changing and constantly fluid. Design and build your workspace to be able to adapt to the needs of your environment.
KI has three different architectural wall solutions, all with unique advantages and all that can be used in conjunction with each other as well as KI's system furniture, Unite.
Evoke is a breakthrough alternative to drywall that is changing everything – from the minds of architects to the hearts of designers. Now you have the freedom to express yourself in ways once thought unimaginable with a wall system. Featuring the passive aesthetics of drywall with virtually seamless reveal lines, Evoke is as flexible as a traditional movable wall, yet is screen-printable wrappable, and even paintable in the field – anything but dry.
With a construction process as simple as permanent wall, Evoke installs faster and easier than drywall (and other traditional movable wall systems) and can also be quickly reconfigured with far less waste at a minimal cost – giving contractors, architects and designers alike an unprecedented level of control.
Working in concert with existing drywall as well as KI's Lightline and Genius architectural walls, Evoke's performance is inimitable. And with a Sound Transmission Class (STC) performance rating up to 50, its acoustics are unbeatable, in turn minimizing distractions and maximizing productivity.
Designed for durability, Evoke architectural walls provide years of use, even through multiple reconfigurations, backed by a 10-year warranty on most items. Evoke is approved for seismic areas and cleanroom applications.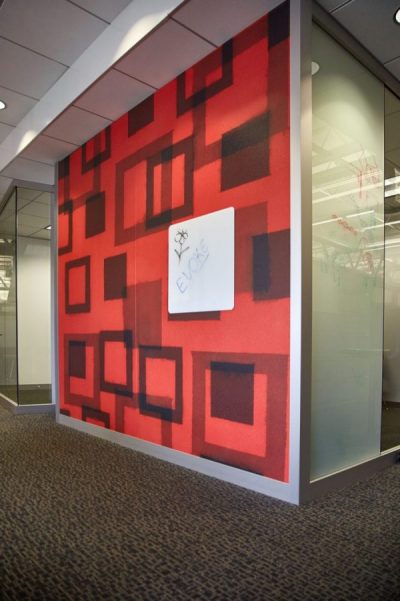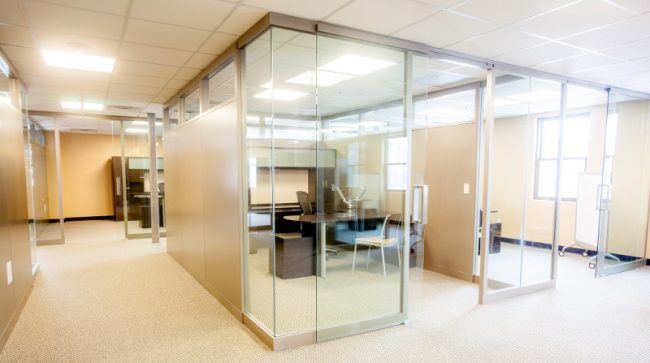 Lightline
Lightline is a pre-assembled, unitized glass wall system dedicated to the enhancement of light. Its seamless connections maximize natural light for brighter, more efficient spaces while providing visual unification between architecture and furniture. Unlimited butt-glazing lets you design spaces with no visual breaks, because Lightline doesn't require vertical posts. And its thinner, smaller rectilinear profiles go practically unnoticed.
Lightline architectural wall features pre-assembled construction with ½"-thick glass, seamless glass joints, passive top and bottom channels, and beautifully designed hardware, including full-height sliding glass door mechanisms. The thicker glass provides superior rigidity and sound attenuation. Glass edges are flat polished and chamfered to a precise angle, forming a virtually seamless fit when combined with the dry joint.
Versatile and adaptable, Lightline architectural wall easily integrates with permanent construction, existing architecture and KI's Evoke and Genius architectural wall. Lightline is the only fully unitized storefront solution that can be easily moved and reconfigured without waste and with minimal labor. Numerous design options and features include:
Ceiling heights to 120″ and widths to 48″
½"-thick glass and factory assembled butt-glazing
Panel thickness of only 2.25″ at the base
Sleek visuals with rectilinear profiles
Maximum flexibility and reusability with a large range of adjustment to both base and ceiling areas
Versatile door offerings include sliding or hinged
Glass corners or 3-way connections included as standard options
10-year warranty
The basic task of a wall is to segment space and provide privacy. Genius® architectural wall does that and more, creating highly functional spaces that promote efficiency and productivity.
Genius architectural wall easily accommodates those needs through customizable designs and configurations. Compatible with all KI systems furniture lines, Genius architectural wall integrates with worksurfaces, storage and accessories to create streamlined workstations, conference rooms, training rooms and more.
With an unlimited offering of options, materials, textures, colors, door styles and configurations, Genius architectural wall offers the design flexibility to create unmatched visual impact. From offices to conference rooms to storefronts, Genius architectural wall has the product depth to achieve any look in any environment. Frames can be specified in materials ranging from anodized aluminum to solid wood. Choose from glass or veneer, sliding or swinging doors with hidden or exposed hardware. The range of options eliminates boundaries on what designs are possible.
Genius architectural wall transforms indoor spaces while preserving the outdoor environment. Constructed using ecologically sound materials and manufacturing processes, Genius architectural walls are designed for sustainability. Genius architectural wall helps minimize the office footprint using a variety of sliding doors. Additionally, glass options easily bring daylight into interior spaces. In addition, Genius architectural wall can significantly reduce construction landfill debris from a job site while maintaining higher levels of indoor air quality.
Genius architectural wall offers the high performance and value demanded by today's offices and professional environments. With a full offering of features and options, Genius can reduce noise (44 to 48 STC on solid panels), deliver power and data, and seamlessly integrate with furniture and architectural elements. Designed for durability, Genius architectural wall provides years of use, even through multiple reconfigurations.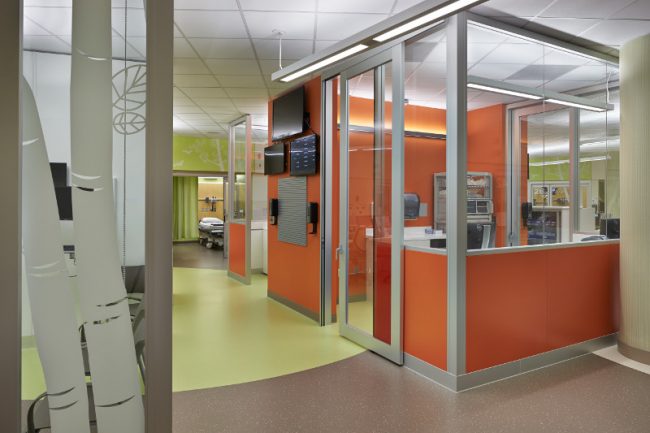 Would you like to learn more about how architectural demountable walls can work in your space?

Workpointe is a deliberately different kind of company. We're all about service and long-term relationships, rather than just making a sale. We're committed to being both professional and personable – which means you'll like our work and you'll like working with us.

Workpointe is a deliberately different kind of company. We're all about service and long-term relationships, rather than just making a sale. We're committed to being both professional and personable – which means you'll like our work and you'll like working with us.
We ask the right questions, anticipate challenges and deliver solutions. If there's a problem, we'll make things right. We're always willing to work harder and go the extra mile for our clients.
In short, we'll do everything we can to make your job a little easier.
Seattle Office
9877 40th Ave S, Seattle, WA 98118
Phone 206.763.4030 | Fax 206.763.4961
Spokane Office
921 W Broadway Ave, Spokane, WA 99201
Phone 509.327.7150 | Fax 509.327.0817
Portland Office
601 SE Clay Street, Portland, OR 97214
Phone 503.239.3912 | Fax 206.763.4961
Workpointe serves Washington, Oregon, Alaska, Idaho and Montana, supporting regional and global projects.