Your job is hard and we are here to help make it easier.
Workpointe has access to hundreds of lines, here is a list of some of our closest partners:
If you don't see a manufacturer listed, just ask!
KI
AIS
Agati
AllSeating
Arcadia
Bernhardt
Bio Fit
Bisley
Boss Design
Bretford
Buzzi Space
Byrne
Carolina
Clarus Glassboards
Connectrac
Coriander Designs
Cramer
Davis
Egan Visual
Eko
Encore
ERG International
Flora Healthcare
Gavco
Ghent

Grand Rapids Chair Company
Great Openings
Gunlocke
HAT Contract
HBC
HBF
Hi5 Tables
Hightower
Highmark
Howe
Humanscale
Integra
Izzy
JSI Jasper Group
Koncept
Krug
Landscape Forms
Leland
Level 4 Designs
LightCorp
LOFTwall
Magnuson Group
Naughtone
Nevins
Nucraft

OFS
Palmer Hamilton
Paoli
Paragon
Peter Pepper
Safco Products
Scale 1:1
Sedia Systems
Sit On It
Smith Systems
Source International
Spec Furniture
Spectrum Industries
Stance Healthcare
StyleX
Surfaceworks
Takeform
TenJam
Turf
Transformations
Via Seating
Watson
WCI
Wenger
Wieland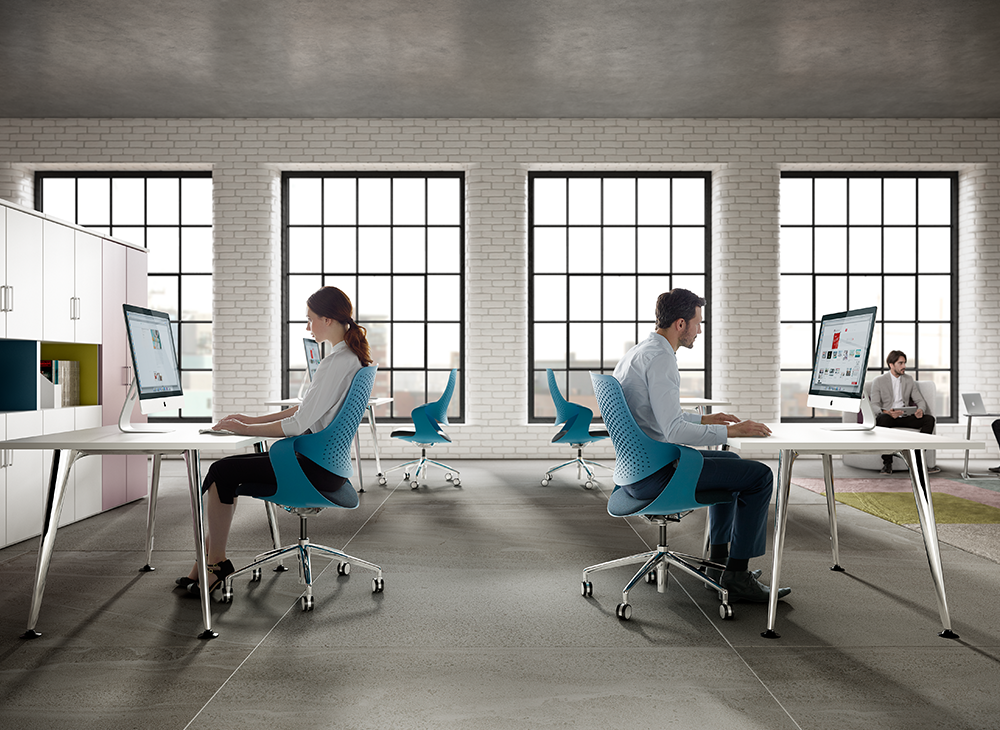 Boss Design, Coza Task Chair
Created in collaboration with renowned German furniture designer, Martin Ballendat, Coza is a task chair that boasts extraordinary comfort and dynamic support by using the natural flexibility of a single ribbon of material. Unlike other task chairs, it does not require multiple components or complex assembly. Coza is visually and functionally unique, and is the perfect chair to facilitate flexible working in a modern office.
Darran, ThinkingQuietly
In a lively setting, ThinkingQuietly's range of acoustic furniture turns the volume down on peripheral sound. The acoustic material is fabricated from compressed recycled plastic. Workstations are available with front privacy panels and a mobile briefcase that can be placed between users. Cable trays utilize the same material to conceal power and data, reducing floor level noise.
Coriander, Brooklyn Occasional Tables
Brooklyn is constructed by welding curved steel rods to circular frames. Brooklyn Occasional Tables are distinctive pieces that can brighten up and add modern elegance to any space. A classic twist on a modern industrial design. The Brooklyn table uses a premium birch hardwood plywood layer that creates additional warmth to help ground the design.

Workpointe is a deliberately different kind of company. We're all about service and long-term relationships, rather than just making a sale. We're committed to being both professional and personable – which means you'll like our work and you'll like working with us.
We ask the right questions, anticipate challenges and deliver solutions. If there's a problem, we'll make things right. We're always willing to work harder and go the extra mile for our clients.
In short, we'll do everything we can to make your job a little easier.
Seattle Office
9877 40th Ave S, Seattle, WA 98118
Phone 206.763.4030 | Fax 206.763.4961
Spokane Office
921 W Broadway Ave, Spokane, WA 99201
Phone 509.327.7150 | Fax 509.327.0817
Portland Office
601 SE Clay Street, Portland, OR 97214
Phone 503.239.3912 | Fax 206.763.4961
Workpointe serves Washington, Oregon, Alaska, Idaho and Montana, supporting regional and global projects.