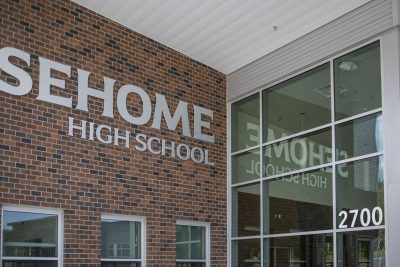 A Community Investment
In 2013, voters approved a bond to replace the existing Sehome High School located in Bellingham, WA. The original school was built in 1967 and was long overdue for an update. In March of 2017, construction broke ground, and in January of 2019, students started their first day of school in the new building.
Workpointe was engaged for full design work and installation services to make this new building for its 1,200+ students something that could last for another 50+ years. Workpointe provided 90% of the furniture package which consisted of 50 classrooms, admin spaces, library, and common spaces.
It was important to capture the integrity of the school, named for Chief Sehome of the Samish tribe. We provided custom color matching to the Sehome High School logo throughout the furniture selection. These colors were essential to convey the brand and message of the Sehome HS spirit. Utilizing Momentum and Pallas fabrics, we captured the school's design vision of a bright and open space connected to the sweeping views of Mt. Baker and the Northern Cascade Mountains.
In addition to capturing the essence of the school spirit, we also provided functional solutions. Our work included designing and installing KI InTandem tables for computer programming and business classes, KI Ruckus worktables and storage for manufacturing and robotics labs, and providing butcher-block tables for scene building in the award-winning performing arts program. This project was an amazing opportunity to showcase what we can offer from initial design to product selection and installation services.
All projects have their struggles, and this one needed to be installed in one window in a tight time frame, which happened to be in the height of winter. As many in the industry know, December is a challenging month as we juggle holiday closures and weather events that lead to manufacturing backlogs, road closures, and transit delays. Despite the short window for installation and winter delays, we completed this installation in three fast weeks.
During the short window for installation, we also ran into product disappointments. Due to a change in the contractor's plan, there was now a height variance between the custom powered science tables and the built-in counters. The client required the tables to match the counter height to provide a safe environment for the students to engage in classroom experiments and prevent accidents with chemicals and burners. Understanding the situation and the need for standardized heights, Workpointe provided a second set of tables to compensate for floor variance and sloping. One of the Workpointe core values is "to build with integrity and do the right thing". At Workpointe we don't walk away from problems, we don't point fingers, we just help our clients accomplish their goals. This allowed for this project to be completed on time and on budget.