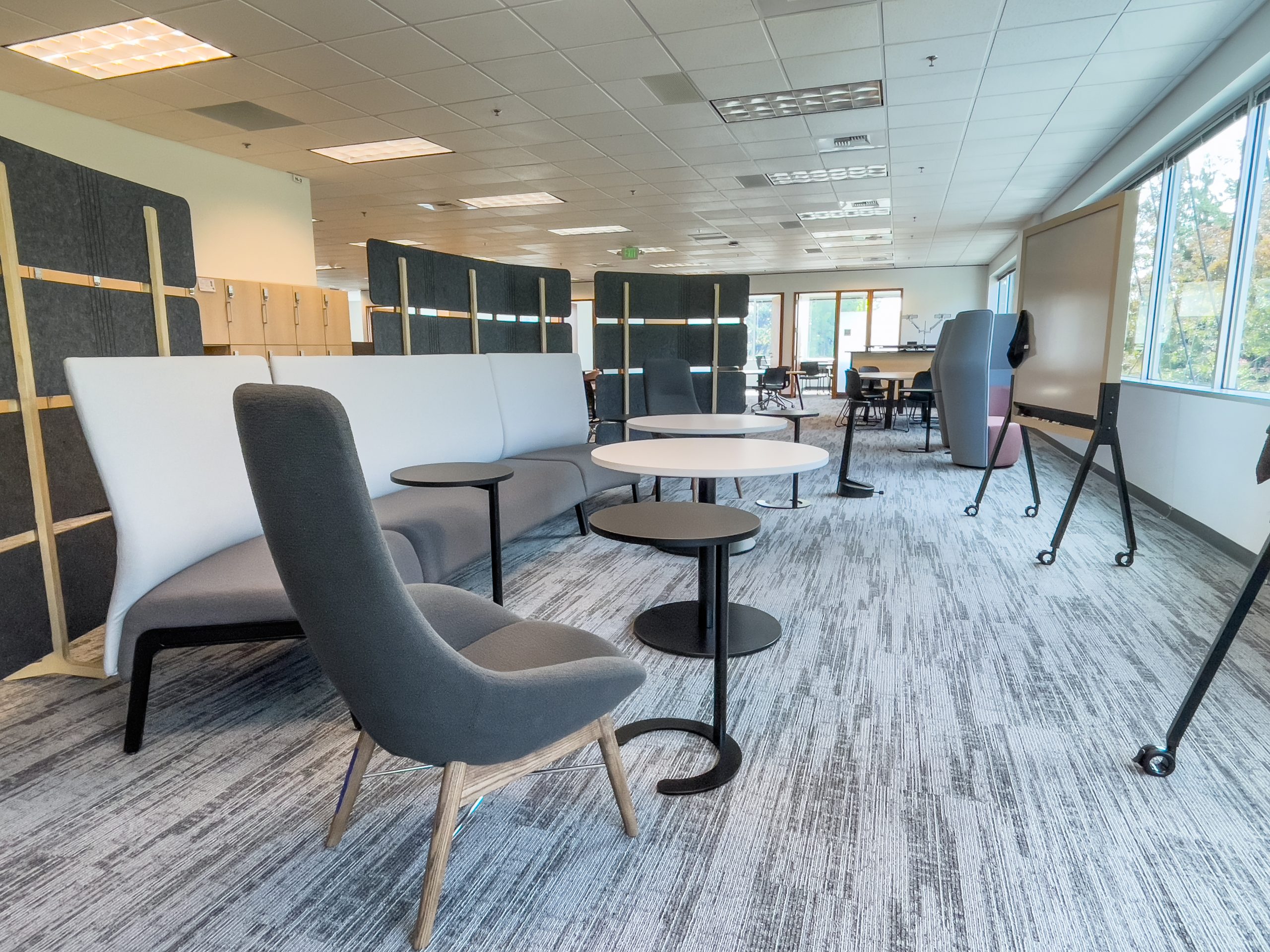 A Project Halted By A Pandemic


In March of 2020 all of our lives were turned upside down when COVID-19 hit. One particular project at Workpointe was impacted immeasurably. A local biotech that we have partnered with in the past was outfitting two floors of workspace in a brand-new building. The install had started in February of 2020 and naturally was halted in March. With such unknowns at the time our team had to adapt quickly and work with the client, Westlake Consulting Group and Lease Crutcher Lewis to navigate such uncharted territories.
The original design of the space was catered to workstations, private offices, and meeting rooms. When COVID hit,
the client anticipated the future change of workspaces and decided to go back to the drawing board.
We removed all the demountable walls and furniture that had been delivered in February.
Because Workpointe owns our own warehouse we have the adaptability to make our own decisions. During this transition of redesign and discovering what the future of the workplace would be, we were able to warehouse all the product for an indefinite amount of time until we could continue the project on site and did not have to work through third parties and reporting to a warehouse on current status.
The entire client space was re-imagined and redesigned for a post-COVID era. We created touch-down workstations expecting the office not to return to full capacity and working from home would be a mainstay. We created more ancillary meeting spaces, knowing that people would come in for more casual meetings to collaborate with team members. Lastly, we installed phone booths – a way for individuals to obtain private space in such a new an open environment. The results have been outstanding. The space is beautiful, the entire team pulled off a massive transformation and the client has adopted an entirely new way of working in less than a year.
To accomplish such a massive change, Workpointe was challenged to reuse two floors of furniture designed and designated for a completely different purpose all within a tight budget. Meanwhile, global supply chains were affected across the board, not just from furniture but within construction, AV and IT. Workpointe juggled all these constraints, challenges and pulled off a seamless transition that was finally completed in August 2021.